It's not called the "Novel" Coronavirus for nothing! When this virus hit, it brought all kinds of "novel" changes to our lives – like social distancing, face masks, and tons of hand-washing. We never could have guessed how life would change at home, work, school, and in public, but we've learned to adapt to the new normal.
Thankfully, even though things may look a little different in our schools, you can rest assured that our "Language, Love, and Learning" mission will never change!  Our directors, teachers, and our cheerful mascot, Periquito Azul, have fun ways to help keep children healthy and safe while keeping our environment warm, welcoming, and familiar.  Each school incorporates the new protocols with their own personal touches, but here are a few of the kid-friendly adaptations and phrases that are popping up in our schools this fall. It might be helpful to run through these with your little ones, whether they're returning students or first-timers!  
¡Hola! y ¡Adiós!
As soon as you arrive, you will notice a change in our drop-off and pick-up procedures. At this time, our schools are limiting entry to staff and students only, so we greet students at the door, do a brief wellness check (with temperatures taken) and wave goodbye to mom or dad.
SSH staff then escort students inside with smiling faces and lively music to set a positive tone for the day. They're welcomed to their classrooms with a sing-songy reminder to wash their hands (maybe to the tune of a conga-line rhythm!) like "¡Hola Isabel! ¡Lávate los manos!"
New Health and Safety Lingo
From arrival until pick-up, students will hear lots of new vocabulary woven into our usual curriculum themes. No matter what theme we're working on, we'll be reinforcing cleanliness, safe distances, and health. If you want to practice some of these Spanish terms at home, here are a few examples:
Lávate bien las manos.  Wash your hands well.
Usa jabón y agua.  Use soap and water.
Lávate al menos por 20 segundos.  Wash for at least 20 seconds.
No te toques la nariz, no te toques la boca, y no te frotes tus ojos.  Don't touch your nose, don't touch your mouth, and don't rub your eyes.
Tápate la boca y la nariz al estornudar o toser.  Cover your mouth and nose when you sneeze or cough.
Mantén una distancia de seis pies cuando estés con otras personas.  Stay six feet apart.
We're Socially Distanced, But Still Social!  
One of the things our teachers love most is being able to hug their students.  These days, of course, our hugs are virtual so we show our "cariño" with warm smiles, gestures and body language, and we use catchy words and visuals to remind everyone of the 6' spacing. 
Spots for Personal Space – To recognize what six feet apart looks like, your children will see colorful "spots" on the floors.  They might be in the shapes of hands, feet, hearts, stars, or even Periquito Azul's bird footprint!  These stickers give kids a clear visual of where they should sit or stand.  As we found with Summer Camp students, they quickly take ownership of their "spot" and give each other friendly reminders that it's only one person per spot!
From Airplane Arms to Superheroes – Some schools use special phrases or familiar visuals to remind children of the 6' spacing.  You may hear about them spreading their arms like the wings of airplanes ("¡Aviones!") or talking about the friendly superhero, Susana Distancia, with her arms outstretched to show a healthy distance.
Follow the Yellow Brick Road! – Our "roads" may not exactly be yellow bricks, but some of our schools have brightly colored, zig-zagging routes marked on the floors. These lead the way to the bathrooms, handwashing areas, and the playground.  The lines are an instant way for kids to learn the lay of the land while keeping them safely distanced from each other and not congregating. 
Rest Time – New Layouts for Lying Down – To keep as much space as possible between students at nap time, nap mats are arranged foot to foot, or zig-zagging in a head to toe pattern. 
Making Handwashing Frequent and Fun
Children and staff wash hands consistently throughout the day, including before and after eating, using the restroom, playing outside, handling trash, etc.  To make sure we're getting squeaky clean, we sing 20-second songs like the ABC's or  Feliz Cumpleaños.
Spanish and English posters around the school show proper techniques for washing and for protecting others if you cough or sneeze. And just to make sure we're all following the guidelines, Periquito Azul is keeping an eye on us!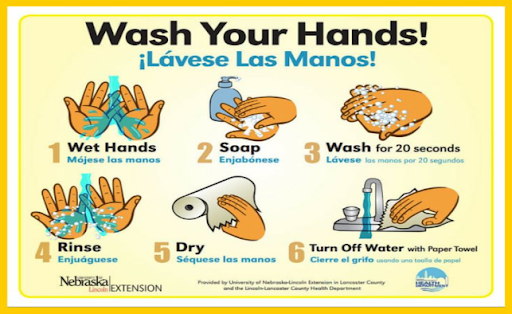 Adaptable Kids Catch on Fast!
New vocabulary and new practices may seem like a lot for little ones to pick up, but they learn and adapt quickly. We know they won't always follow protocols (they are free-spirited kids!) but we're here to keep them safe with lots of friendly, positive reminders. We're proud to do everything we can to make these changes a fun and educational part of our school days, building healthy habits that will last for years to come.